Welcome To
Dharohar Retreat
Welcome To
Dharohar Retreat
Welcome To
Dharohar Retreat
Welcome To
Dharohar Retreat
Welcome To
Dharohar Retreat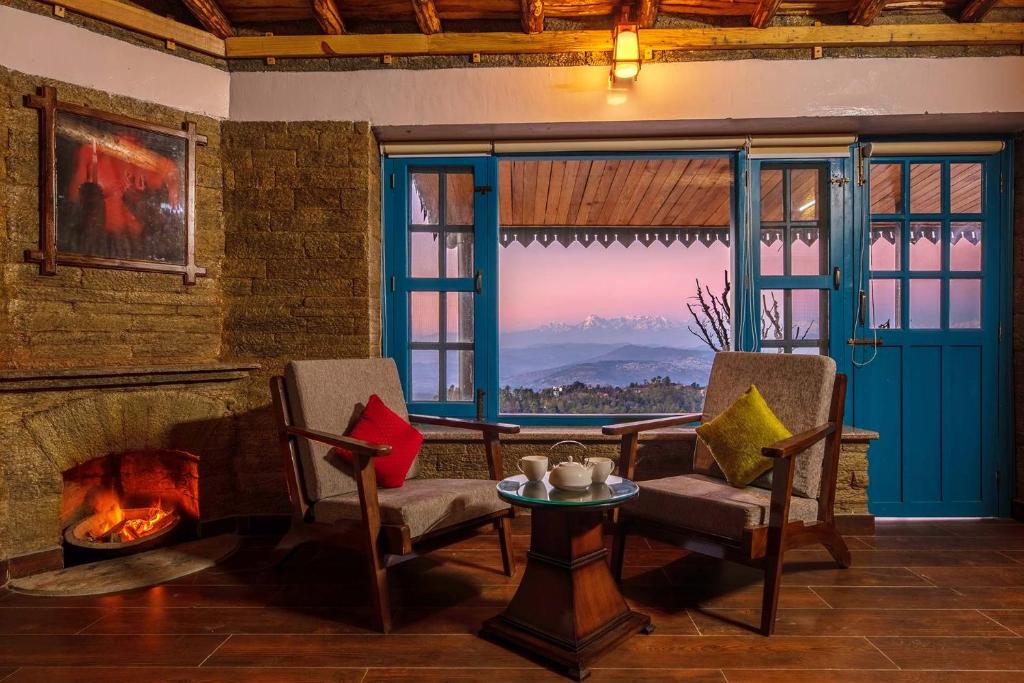 Luxurious Traditional Kumaoni Hospitality
Dharohar Retreat lives amidst unparalleled beauty and tranquility. Nestled in the tiny village of Satkhol in the Nainital district of Uttarakhand, we look over a wide valley of oak and pine forests dotted with mountain homes. As you look up at the northern horizon, the magnificent views of the Kumaon and Garhwal Himalayas just take your breath away!
You have arrived at Devbhoomi (the land of the gods), of holy men and women, of adventurers, philosophers, writers and hippies. Come discover the extraordinary history, religious and spiritual heritage, flora and fauna, and experiences of a pahari (of the mountain) life, that these mountains and forests and the roaring rivers hold within!
Dharohar, as the name implies, is a space owned by a local Kumaoni family that was inherited from their forefathers.  Nestled within fruit orchards and coniferous forests, the space offers a complete and unique experience. An ordinary day at Dharohar would begin listening to various Himalayan bird calls as you sip on a hot cup of coffee. A lazy,quiet stroll in the garden invigorates your soul as you greetlocal insects and breathe in the invigorating smell of pahadi herbs. Evenings are the most special part of the day here as you get to witness beautiful sunsets that set fire to the panoramic view of the snow-capped Himalayan peaks. The most prominent of them being Nanda Devi, the second highest peak in India. Each season carries its own charms and hence, offers a wide range of experience throughout the year.  At an elevation of approx 6000 ft. , Dharohar invites nature lovers to immerse themselves in a tranquil, rejuvenating experience as they enjoy cool breezes, forest treks and fresh fruits during the summer season.  Monsoon is a feast for the senses. From fragrant farms to chirping cicadas, the atmosphere is perfect for inner peace and solitude. Winters are another interesting time of the year, especially for clear, breath-taking views of the snow peaks.
"My father had a wish, to build a larger house close to this pear tree for his growing family", says Bhuvan Kapil, the owner of Dharohar Retreat, pointing to the gnarled old tree. Bhuvan's grandfather had moved to this village in the early 1960s and created an orchard of plums, pears, apricots, malta, lime and apples. The family farmed the local crops and raised cows.
The five acre property on which Dharohar Retreat stands today, is Bhuvan's homage to his father. Built around that old pear tree, the tastefully designed comfortable cottages and a new wing comprising large family suites and spacious verandas, promise guests an experience of a home away from home.
Bhuvan or his family members are available on hand along with a team of dedicated staff to make your visit to Dharohar a memorable one. Our guests leave wanting to return for yet another magical stay.
Distance from Dharohar Retreat
Nearest airports are Pantnagar (4 hours) and Bareilly (5 hours). These airports are presently connected to Delhi, Bangalore and Mumbai.
Nearest railway station is Kathgodam (2.5 hours). Some long distance trains terminate at Lal Kuan (3 hours).
Dharohar is 9 hours drive from Delhi and takes approximately the same time from Dehradun. Lucknow is about 10 hours away by road.
Note: We can arrange for transportation from the airport and railway station on request.
Our Guests Say
Testimonials
Dharohar Retreat is a beautiful Estate nestled in the lapse of the Nature. One needs to travel through the beautiful pine forest enjoying the Kumaon division's beauty. The estate is so spacious and well maintained. Each and every room is spacious.
If you love nature and want to spend some quality time in hills, then the Dharohar retreat is the no. 1 place in Uttarakhand for you! The warm Hospitality and services will give you a home-like feeling! there are campfires and nature walks. As a nature lover, the Himalayan views were the best part of the trip. Must visit..
Dharohar is Located in a small mountain hamlet in Kumaon, it has the tradition of best hospitality. The amazing Himalayan View was the best part on this trip. The rooms and service are top tier. Being here is like being at your home in the mountains. I would be delighted to experience it all again!
We very much appreciate the efforts and efficiency of all your staff during all parts of the meeting. If we have the opportunity to have a meeting in your country in the future, we will get in touch with you.